Green Ark Committee
World Oceans Day Programme 2016
The Ocean has a crucial role in trade exchanges, maritime transport, food security, tourism, biodiversity environment and anthropogenic greenhouse absorption. Despite this valuable role, every day, tons of wastes are discharged in the Ocean. Non sustainable and irrational fish activity continues to threaten the Ocean's biodiversity throughout the world.
Moanda localisation is an open space on DRC on the Atlantic Ocean and benefits to many beaches. Banana is Moanda's harbor located at 15 kilometers on the south, between the Congo's river and the Atlantic Ocean.  However it's natural balance is threaten by different kind of human pressures. Unfortunately, nothing is done to educate and raise awareness among the ocean's users nor the public, the state authorities or private entrepreneurs, political leaders and civil society, on the crucial role of the Ocean and the necessity of a sustainable use of the resources and services of the Ocean.
The public isn't really aware of the World Ocean Day.
Green Ark suggests a mobilization in Moanda in DRC, for a sustainable management of the Ocean, its resources and benefits. The program includes:
Community Forum
Interactives sessions
Tee-shirts, posters, information leaflets, banners.
March
A petition should be written by NGOs actors and the society so that it would be presented to the Prime minister and to the DRC Parliament. We are asking a better and more efficient protection and management and a rational use of the Ocean.
Partners associated
Advocates for International development (A4ID)
SODI e.V
Gender and Water Alliance
BKFA Australia
End Water Poverty UK
Maternity Foundation
Friedrich Ebert Stiftung
Presentation
Green Ark Committee, GRC a été établi à Kinshasa, République démocratique du Congo depuis 2011.
Our mission
Green Ark Committee (GRC) is an organization committed to promoting an environmentally sound society (environmental citizenship), eager to upholding natural balances and prudent use of ecosystems' resources, for its long term socio-economic growth. The Organization illustrates a sounding alarm to draw attention on the increasing pressures on our planet's ecosystems.
Green Ark is dedicated to preserving ecosystems in a bid to improve socio-economic conditions among the most vulnerable people, upholding equitable access to available resources for livelihoods and to boosting up sustainable development across eco-friendly communities.
Our vision

An interdependent world where people adopt and uphold lifestyles and production patterns that are environmentally sound, prudent and sustainable. This vision is shared by all the members and stakeholders of Green Ark movement.    
Our Goals
To sustain activities pertaining to agro forestry and food security, as well as steps meant to curb pollution, natural disasters, environmental migration and global warming

To enhance hygiene, sanitation, health, education conditions and overall management of clean water resources in both urban and rural areas.

To sustain population and community Development steps in favor of disadvantaged groups (i.e. indigenous peoples) by promoting processes with potential to lead to sustainable livelihoods, access to rights and alleviate poverty.
Organizational/institutional Structure
Green Ark is made up of the following bodies:
The General Assembly of members
The Board of Directors
The General Secretariat
Fields/Areas of activities

Green Ark's interventions cover number of African countries and revolve around the following areas:
Ecosystems
Environmental Assessment
Climate Change
Emergency relief & Disasters
Clean Water & Sanitation
Food Security
Indigenous Peoples
Renewable Energies
Community Health
Sustainable Development
THE PROJECT
Location
Secretariat Central:
38, Av.CADECO
Q/Cliniques
KINSHASA – Gombe
RD Congo

Area
Africa
Contact
Telephone: (+243) 82 63 53 17 7
News
Atelier sous-régional d'Afrique Centrale, Kinshasa, 13-14 Avril 2016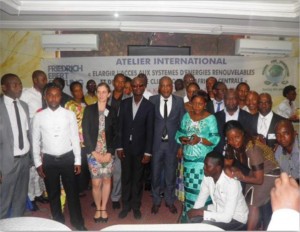 Du 13 au 14 avril 2016, plus de 52 participants issus de la société civile, des institutions du secteur privé, public, des universités, des ONGs, de partis politiques provenant de différents pays d'Afrique Centrale se sont réunis à Kinshasa, capitale de la République Démocratique du Congo, pour un atelier sous-régional sous le thème :« Elargir l'accès aux systèmes d'énergies renouvelables et de neutralité climatique en Afrique Centrale ».
Durant deux jours consécutifs, les participants ont réfléchi sur le développement et l'extension des services, technologies d'énergies renouvelables et propres.