E.C.O.L.E. de la mer
World Oceans Day Programme 2016
In La Rochelle, different workshops, exhibitions, meetings, and other free activities are organized by l'E.C.O.L.E de la mer and many partners.
From primary school to highschool, students are invited to take part of an adventure… Discovering the Ocean !
World Ocean Day will take place in La Rochelle, at the Maritim Museum on Wednesday 8th June at 9.30pm.  Schools can take part in this World Ocean day from 9.30 to 12pm and leisure centers and  general public from  from 13:30 to 17:00 pm, by participating to different activities for free: exhibition, activities, meetings with experts.
Coastline biodiversity through an artistic approach
Pollution and selective sorting
Foreshore and birds from the coast
Listen to the sea
Navigation legacy
Water life cycle in a printed document
Fishes live through seasons
Discover biodiversity in La Rochelle
Shellfish pickers
Marine biodiversity inventory and environnment protection
Fish, from the sea to the market
Mussels producers
My mental representation of the seashore
Biodiversity of the rocky foreshores in Charente
La Rochelle is organizing the World Ocean Day since 2005. This event has enabled raising awareness about the Ocean's preservation to over 4.500 people. Moreover, 47 partners took part in this mobilization and 3.000 passports "citizen of the ocean" have been delivered.
Partners associated
L'unité Pédagogique Développement Durable de la Communauté d'Agglomération de La Rochelle, les Ambassadrices du tri de la Communauté d'Agglomération de La Rochelle, Les Petits Débrouillards 17 , Nature Environnement 17 , Le Muséum d'Histoire Naturelle de La Rochelle , La Ligue de Protection des Oiseaux 17 (LPO 17) , L'Imprimerie Rochelaise , L'Agence des Aires Marines Protégées , Le Musée Maritime de La Rochelle , Le laboratoire LIENSs ULR-CNRS , L'Inspection Académique de Charente Maritime , Le Syndicat Mixte du Port de Pêche de La Rochelle , Le Port de Plaisance de La Rochelle , Le club UNESCO de La Rochelle , La Maison de la Baie du Marais Poitevin – Esnandis , La ville de La Rochelle
Support and financial sponsor
Presentation
Créée en 1999, l'Espace de Culture Océane du Littoral et de l'Environnement est une association loi 1901 présidée par Isabelle Autissier.
L'E.C.O.L.E de la mer a pour objet l'information, la pédagogie et la diffusion de la culture scientifique et technique sur les thèmes de la biodiversité marine et des espaces littoraux, en direction des publics les plus larges.
Les missions de l'E.C.O.L.E de la mer se déclinent autour de trois axes :
Les animations pédagogiques auprès de la jeunesse, en partenariat avec l'Education Nationale, avec, entre autres :
• la mutualisation des offres éducatives
• une offre de découverte des métiers de la mer
• l'accompagnement de classes à projet répondant à des demandes spécifiques d'enseignants.
Des missions auprès du grand public avec :
• des animations de découverte de la mer et de la biodiversité marine
• le développement d'actions sur le thème spécifique du littoral en direction de ses habitants et de ses usagers, dans toutes ses dimensions physiques, biologiques, socio-économiques et culturelles (fonctionnement, gestion, risques, opportunités).
L'animation d'un réseau d'acteurs de l'éducation à l'environnement littoral.
L'E.C.O.L.E de la mer dispose de nombreuses ressources : mallettes, expositions, jeux, etc…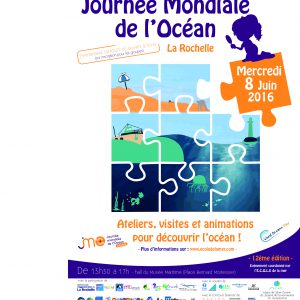 Location
BP 43104, Cedex 1
17033 La Rochelle, France

Website
Area
Europe

Contact